The plan was simple. Head to Oregon, visit my family, head to Portland for a day, see some friends and family there, have a beer or two in new locations, then head home. Then I got the email. "So you're here on Feb 19? http://oregonbeer.org/zwickelmania/" This was going to be a busier weekend than I had anticipated.
I'm going to be writing this email from a slightly different tone than usual. The reason is that I headed to Portland with my wife and two daughters (aged 3 ½ years and 7 weeks). I contacted the breweries ahead of time about being family friendly. Both Cascade Barrel House and Hair of the Dog confirmed that they would indeed be family friendly but to expect the brewery side to be busy.
We arrived at Cascade first and were greeted with a big crowd inside. Thankfully we found a booth where we could all fit but the Barrel Room lacked a highchair for the infant and lacked juice for the toddler. We made due though and tried a variety of their sour beers. I was particularly impressed with Noyeaux, Blueberry and Vlad the Imp-aler. After a small lunch it was time to check out the barrel tasting and look around the brewery.
Kaleigh, my three year old wanted to join us and quickly pointed out that they were making beer in this room. As I tasted the Raspberry Tripel from the barrel, a component of Noyeaux and absolutely delicious, she told me she wanted to make beer in school and was going to make a strawberry beer. While brewmaster Ron Gansberg was out pouring the samples of the Raspberry Tripel, the lines were a bit long and provided little time beyond his scripted description of the beer and its future use.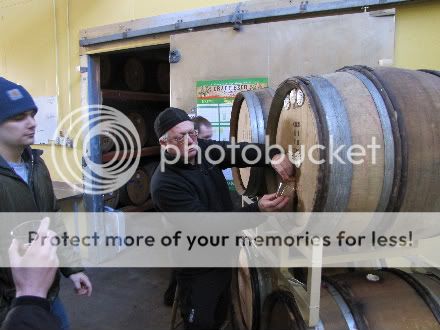 In addition to the Raspberry Tripel, I was able to sample a spiced quad and a honey rye. The "tour" was a meandering line through the brewery with stops at brewery staff standing in front of barrels, ready to pour samples. There was a little information given, but not too much. As much as I enjoyed the samples, I didn't find much to the tour.
Our next stop was a short walk towards the Willamette and took us to Hair of the Dog. There were two things I was looking forward to seeing on this visit. The first was head brewer Alan Sprints. The other was his cauldron, a unique brew kettle unlike any that I've ever seen in a professional or amateur setting. The brewpub was filled to the brim when we arrived so the wife chose to skip this location and took the infant elsewhere. Kaleigh, my loyal sidekick, was brave enough to enter the fray though and we headed to the brewery tour.
As with Cascade, we were met with a long line of beer fans as opposed to a true brewery tour. At the end of the line were samples of Adam and Blue Dot, both poured off the tanks. Thankfully, the line did take us right by the cauldron and the lautertun used for Hair of the Dog's beers. Kaleigh was very impressed by an active fermentation which was blowing off into a keg bucket full of water. While these things amused us, and I was able to take a look around the brewery, the experience wasn't much more than waiting in line for a free beer.
Wants more photos? Checkout the Zwicklemania slideshow.
In the end, my Zwicklemania tour left a little to be desired. If I find myself in Portland again for the same weekend, I may do better research into the events and not just the places I'd like to have beer. For those who might be wondering what a Zwickle is and what it has to do with brewery tours and tastings, a zwickle is a sampling port on a tank. Therefore, Zwicklemania would be associated with tasting beer directly off the tanks.